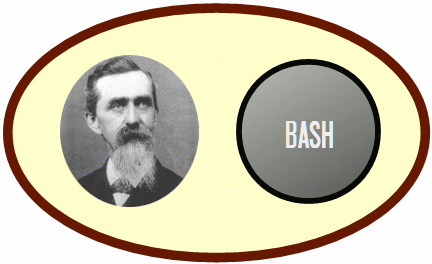 Are you tired of running out of those little plastic single-serving coffee doodads for your expensive automatic coffee maker? Do you wish the supply of foie gras in the refrigerator would never end?
Your troubles are over. At least your troubles in regard to the procurement of expensive consumables are over; Dr. Boli makes no promises about that trouble with your Aunt Margaret and the banjolele, about which he promises never to speak again. Simply install the Bash Button where you keep your supplies. When you are running low, you bash the button, and the world's first intelligent commodity-procurement system swings into action.
What do we mean by "intelligent?" Simply this: the Bash commodity-procurement system is the first such system in the world that intelligently analyzes whether you actually need the commodity in question. Do you really need printer cartridges when you could write a letter with a pen and ink? Do you really need foie gras when you could eat chipped ham? Do you really need little plastic cups with single servings of stale coffee powder when you could have much better and cheaper coffee by grinding it yourself? Probably not.
At his age, Dr. Boli has come to realize that most people in the world today have an unhealthy attachment to material things. Therefore, when you bash the Bash, it is very likely that nothing will happen at all. Think of the money you'll save!
Currently the Bash program is in beta testing, and participation is by invitation only. If you find a wax-sealed envelope with your name engraved on it in your mailbox, open it at once! It's your ticket to the next stage in the evolution of home shopping.